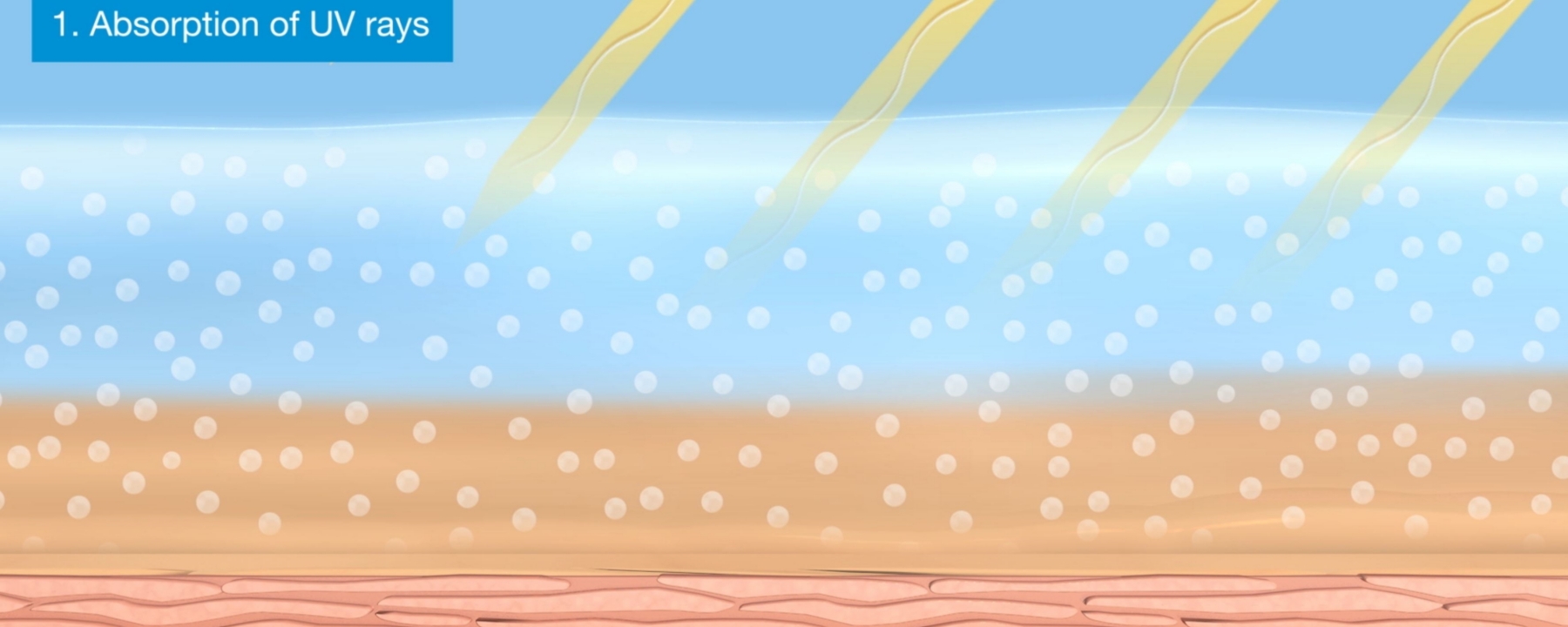 Sun protection
Absorption is the key factor in UV protection
The topic of sun protection is shrouded in countless myths and misinformation – even today. This is especially the case for filter labelling and how the products work.
"I'm very satisfied with my sunscreen. It uses physical UV filters that effectively scatter and reflect light and UV rays." Many similar product reviews and opinions can be found on the Internet. First, it is positive and great news that end consumers are satisfied with their product. That said, we would like to offer some clarification regarding UV filter labelling and how such filters work.
UV filters reduce the amount of UV light that enters and gets under the skin. Two different types of filter are used. "There are ORGANIC filters, which are carbon based. Then there are INORGANIC filters, i.e. zinc oxide and titanium dioxide, minerals which are carbon free," explains Marcel Schnyder, Head of Global Technical Center Sun Care. "Generally speaking, we don't refer to chemical and natural or physical filters because this classification is misleading," Schnyder states.
As particles are involved, the assumption that their effect is merely to scatter and reflect light and UV rays has unfortunately taken hold. However, this is not accurate. "Light scattering and reflection account for around 10%, while 90% of the protective effect comes from absorption," states Professor Bernd Herzog, Global Development UV Protection / Scientific Liaisons. Inorganic filters must be a particulate, i.e. a crystal or crystallite is required. Many molecules form this crystal structure, which is necessary for energy bands to form, similar to a semiconductor. These energy bands are the basis for allowing small titanium dioxide and zinc oxide particles to absorb UV radiation.

With organic filters, which are mostly dissolved in cosmetic oils or in water, sun protection is, generally speaking, provided exclusively by absorption. However, some are very insoluble in both media and are therefore produced as particle dispersions. In these, too, sun protection is achieved largely through absorption, similar to zinc oxide and titanium dioxide. As some of these particles are smaller than 100 nm in size, they are defined as nanoparticles, just like most inorganic filters.
Since particles are involved, radiation is also scattered. As with inorganic filters, this accounts for approximately 10% of the protective effect. The scattering also leads to a broadening of the spectral protection, which also results in a certain visible protective effect.
In contrast to zinc oxide and titanium dioxide, however, the absorption mechanism focuses on the absorbing molecules. Similar to the energy bands in certain inorganic crystals, the organic filter energy levels are already present in the molecules. They absorb UV radiation, convert it into harmless heat and then have to "process" the energy without reacting with other molecules or being destroyed.
If you have ever taken a close look at the INCI list on a sunscreen product, you may have noticed substances such as barium sulphate or talcum powder. These are not UV absorbers; they merely scatter the light. However, for sunscreen it is extremely important to use ingredients that have very good absorption properties in the UV range. They are largely responsible for protection and performance.

The fact is that with absorption, reflection and scattering, there are three different mechanisms that protect against UV rays.
However, the key factor remains absorption. It plays the main role with 90% of inorganic AND organic particulate filters.
Characteristics