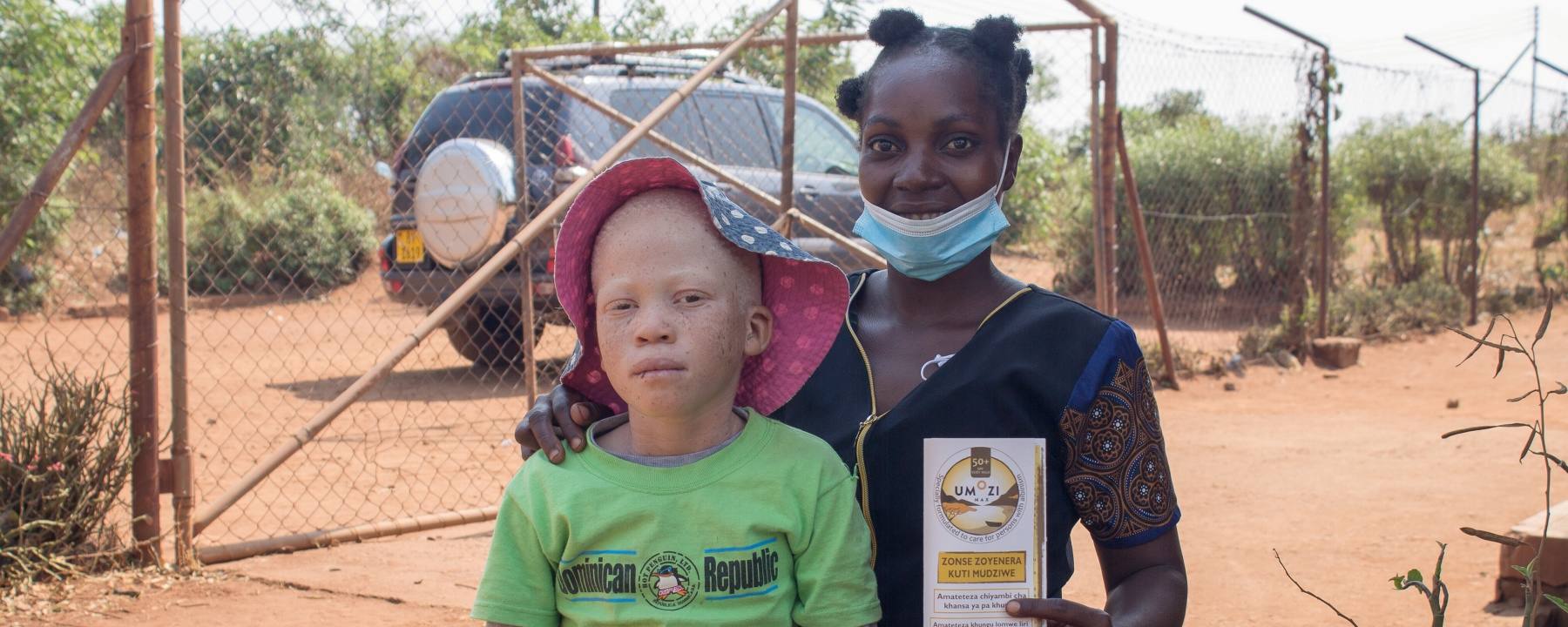 Skin and skin types
BASF & Beyond Suncare: Hand in hand in Africa
Sub-Saharan Africa is home to approx. 200,000 people for whom protection from the sun is a matter of life and death. This is how many people suffer from albinism. BASF supports Beyond Suncare organization, which seeks to help these people. It is about much more than just sunscreen.
The sub-Saharan region of Africa is home to more people with albinism than anywhere else in the world. The figure is estimated at 200,000. That's 200,000 people who need help and protection. Sun protection, which is a key area for the BASF Personal Care business and one where we have great expertise, plays an important role in this. Even so, this is "just" one way of improving the quality of life and level of safety for people with albinism.
A better and safer life
People with albinism have one wish: the desire to lead their lives safely. Does this sound dramatic? It ought to. Due to their appearance and strangeness, people with albinism face a whole range of different problems, especially in Africa. Some of these problems – one should really say threats – are hard to imagine for Europeans in 2022. In some Sub-Saharan African tribes, people with albinism used to be regarded as "evil", leading them to be ostracized, expelled from the tribe and labeled spirits.
Nowadays, they live in fear of their lives because self-proclaimed "faith healers" have declared them sources of good luck. Now, parts of their bodies and bones are sought after by rich and powerful people across some areas of the continent, as they believe they will bring them more riches and good fortune. These distorted beliefs and misconceptions lead to contract killings, attacks, kidnappings, desecration of graves and rapes.
Albinism
Albinism originates from the Latin "albus" and means white. It is a genetic metabolic disorder that makes people look very pale (almost white). In addition to the skin, the hair and eyes are affected (poor eyesight + vision problems).
It is caused by not enough melanin being produced. This is the body's own pigment, which influences both skin color and natural protection against sunlight, and it may either not be produced at all or only to a very limited extent. There is no known cure for the condition. Visual aids for weak eyes and particularly sunscreen are essential for leading the healthiest possible life.
A lack of or poor education due to living conditions and poverty also plays a major role when it comes to sun protection. Apart from lack of access to sunscreen products, many people are not even aware of how sunscreen is able to help them. They cannot understand their carcinoma or the pathological changes and damage to their skin and resign themselves to their fate.
Lack of education is another problem
An example: 70% apply sunscreen at night before going to bed. This may sound funny, but is far from being a joke. The fact is that they simply do not know how to use these products correctly. Due to intense exposure to UV rays in Africa, irreparable skin damage and skin cancer simply cannot be avoided unless sun protection is used. This may also sound dramatic, but without the right UV protection, people with albinism have no chance of survival in Sub-Saharan Africa. Their life expectancy is less than 30 years.
With their longstanding collaboration, "Beyond Suncare" and BASF have managed to formulate a sunscreen that meets the myriad requirements of people with albinism and makes it both possible and tolerable for them to be exposed to the sun. "Working together with Beyond Suncare to develop a special formulation was something very close to our hearts. It calls for very high protection in the UV-A and UV-B range on the one hand, and special sensory requirements on the other," says Stéphanie Acker from BASF's sun care expertise team in Grenzach.
Led by founder Mafalda Soto, Beyond Suncare is working to finally make sun protection something people in all walks of life talk about openly, including politics and, above all, health care. Past and present initiatives include conducting urgently needed skin screenings and, in particular, providing training in the use of sun protection and suitable products.
BASF has set itself the task of developing a very special sunscreen and making the ingredients available free of charge. The following points had to be checked off for the final formulation:
Improved sun protection, especially in the UV-A range
Strong resistance to water and sweat
High photostability to prevent free radicals
Able to be used on highly sensitive and/or already damaged skin
The product has to be easy to formulate. Therefore: a small number of ingredients in the final product
High viscosity to allow for distribution in an "open" container
The sunscreen should not be absorbed or disappear. Users want to see that they are being protected on all parts of the body and that the film stays spread consistently over the skin.
Must feel pleasant during and after application
Participants in a study had the opportunity to test various formulations. At the end of a long development process, the conclusion was reached that the formulation UMOZI MAX received the greatest user approval.
Based on BASF's SWOP (switch-oil-phase) technology, this special sunscreen formulation will now help people with albinism in sub-Saharan Africa. UMOZI MAX is just one piece of the puzzle –after all, Beyond Suncare is about more than "just" sun protection. That said, we are proud to be playing our part, because sun protection is something very close to our hearts.
For more information on Beyond Suncare's website, click here!