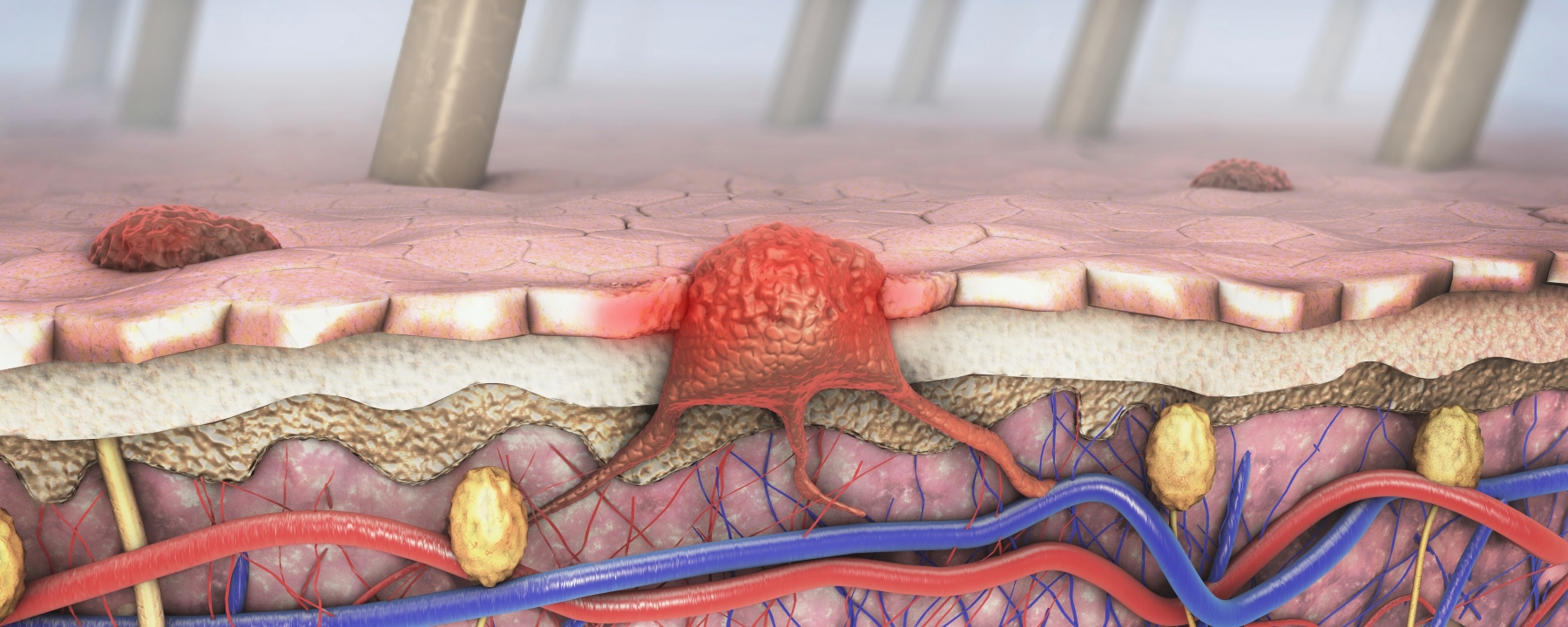 The skin
Common skin diseases from A to Z: a short overview
The skin is very resilient. Its different layers not only protect the body, but also itself. Even so, we can still get skin disorders and conditions. There are many causes and triggers.
The outer stratum corneum, also called the horny layer, protects the inner layers of the skin. It prevents environmental pathogens or harmful substances from penetrating into the deeper layers of the skin and the body. Its protective acid mantle, formed with the help of sweat and sebum, further helps to protect the skin.
Some skin problems are triggered by our genetic predisposition, such as atopic dermatitis (eczema) or psoriasis. Other common triggers include the sun's UV radiation and environmental influences such as extreme cold. Injuries and burns can also be a cause, as can insect bites, fungi, bacteria, or viruses. Some causes can be triggered by medication or food, for example, allergic reactions. And in some cases, abnormal skin changes reveal diseases that affect other organs or functions in the body - such as chickenpox, measles, scarlet fever or rubella (German measles).
For this reason, it is essential that a doctor diagnoses the cause of any symptoms.
Common skin diseases from A to Z: a short overview
Appearance
Oily skin with numerous white heads, blackheads and pimples. Scarring can occur during healing.
Causes
Acne vulgaris is an inflammatory disease involving the sebaceous glands and hair follicles. The sebum and dead cells can lead to clogged pores, which in turn can cause comedones, whether whiteheads or blackheads. In more severe cases, these become inflamed and pimples and papules develop. In particular during puberty, there is an increased production of sebum. This is metabolized by some microorganisms and irritating fatty acids are released, which lead to additional skin redness and irritation.
Treatment
Good skin care is important. Although acne is not caused by a lack of hygiene, pH-neutral face washes and skin care products may have a soothing effect. For severe acne, a doctor will prescribe effective medications, e.g. benzoyl peroxide, retinoids, hormones, or antibiotics.
Athlete's foot and nail fungus (tinea pedis and onychomycosis)
Athlete's foot
Appearance
Tinea pedis is noticeable by uncomfortable itching, rash and visible scaling in the areas between the toes and on the soles of the feet.
Cause
Tinea pedis is a fungal infection that can turn chronic if left untreated.
Treatment
The doctor will take skin samples to diagnose the type of fungus in order to determine the best treatment. Once the fungus has been identified, it can usually be easily treated with antifungal ointments. For severe and advanced stage infections, oral antifungal pills [medication] may be needed.
Nail fungus

Appearance
Depending on the type of fungus, the infection can cause a yellow to brown discoloration of the nail. Often the edge of the nails split or crumble, or the nails may even thicken and separate from the nail bed.
Cause
Onychomycosis (fungal infection of the nail) is caused by certain fungi and yeasts, known as dermatophytes.
Treatment
In earlier stages, nail fungus tinctures or nail polishes that contain fungicidal ingredients may be effective. It's also often recommended to remove the affected areas of the nail. In advanced stages, pills to be taken orally may be prescribed.
Melanoma skin cancer (malignant melanoma)
Appearance
In most cases, melanoma skin cancer is not easy to catch and usually forms on completely normal-looking skin. The first sign often noticed is a new mole or change in appearance of an existing mole. Doctors use the "ABCDE rule" to assess whether a mole is dangerous or not.

A is for Asymmetry: Harmless moles tend to be symmetrical. Asymmetrical moles can be a reason for concern.
B is for Border: Common moles have smooth even borders; melanomas tend to be irregular in shape.
C is for Color: Benign moles are usually a single shade of brown; melanomas often have varying colors and/or shades.
D is for Diameter: Melanomas are often diagnosed at a diameter of 6 mm or more.
and E is for Evolving: Harmless moles don't change in size. Melanomas can change very quickly in shape and size.
Causes
Besides genetic factors, exposure to UV radiation, especially getting sunburned as a child, is considered to increase chances of developing malignant melanoma. Excessive tanning and sunbathing, including use of sunbeds, is considered to be one of the primary causes. UV radiation triggers DNA changes in the melanocytes, which are the pigment cells of the skin, and these are responsible for the dark color.
Treatment
Melanoma skin cancer is a malignant cancer and the most dangerous skin cancer. Early detection and treatment are essential in order to ensure successful treatment (regular skin screening of a person at risk is highly recommended). Malignant melanoma is generally completely removed surgically. Depending on the stage, further treatments may be necessary.
Neurodermatitis (Atopic Dermatitis, Atopic Eczema)
Note: Sometimes neurodermatitis is used synonymously with atopic dermatitis, sometimes it is considered to be a different disease. Both are characterized by itch. The following applies primarily to atopic dermatitis.
Appearance
Characterized by raised, rough, itchy areas of the skin, often with discoloration that is red, brown or gray.
Causes
Although the exact cause is still unknown, it might be hereditary. The skin barrier function and the immune system balance seem to be disturbed. Sometimes factors, such as pollution, irritation and psychological stress, exacerbate the symptoms. Tight clothes can also make symptoms worse. Itching can lead to a vicious circle of itch, scratching and rash formation.
Treatment
Since dry skin and an impaired skin barrier are characteristics, it's important to apply moisturizer regularly to keep extremely dry skin moist and supple. Medications can help in severe cases. They prevent possible skin infections from germs, relieve itching and reduce excessive immune responses.
Appearance
Rosacea is an inflammatory, chronic disease of the facial skin and there are 4 different subtypes. In the initial phase redness around the nose and cheeks often occurs; flushing is frequent. In other cases, symptoms can intensify with bumps and pimples occurring, while blood vessels can enlarge and dilate becoming visible on the skin.
Causes
The causes are still largely unknown, and triggers are diverse. Factors that may exacerbate the symptoms include UV radiation, exposure to heat from hot showers, consumption of coffee, tea, nicotine spicy foods and alcohol, as well as stress, mites and certain medications.
Treatment
Use of moisturizing skin care products, sunscreens and mild cleansing products can be beneficial. Medicated ointments and creams containing active ingredients such as azelaic acid or ivermectin can also be of help. Oral medication containing isotretinoin or antibiotics can also help relieve symptoms. In some cases, the damaged veins can also be removed with laser treatment. Those who have rosacea should observe what causes flare-ups and then avoid known triggers.
Psoriasis (psoriasis vulgaris)
Appearance
Red, flaky, crusty patches of skin often covered with silvery scales, typically found on the scalp, knees and elbows. Most people are only affected with small, localized patches although lesions can be widespread.
Causes
Causes are thought to be predominantly genetic in nature with the immune system playing a major role. A rapid buildup of the skin cells leads to thickening of the skin (plaques). Inflammation is common. Symptoms are exacerbated by triggers such as infections, stress, skin irritation, and hormonal changes in the body.
Treatment
Basic skin care is important. Moisturizers (e.g. containing urea), sunscreens and gentle cleansers should be used. Keratolytics (e.g. salicylic acid or niacinamide) may be beneficial. To relieve more severe symptoms, there are medicated ointments and creams, e.g. containing corticosteroids or vitamin D3 analogues (e.g. calcipotriol), which can be prescribed. Light therapies are also used. In severe cases, medication as pills are used.
Appearance
Benign, generally flesh-colored skin growths, often with the appearance of a solid blister or small cauliflower. They are typically found on the hands and feet.
Causes
Some so-called warts, e.g. filiform-warts like skin tags, are not actually warts. The common wart (verruca vulgaris) usually caused by human papilloma viruses (HPV), penetrates through small injuries into the skin. They are often contagious but not very transmissible.
Treatment
There are many treatments for warts. They range from cryotherapie (freezing), laser treatment, ointments to surgical removal.
The editorial article is not intended to be used for self-diagnosis or health-related decisions. Our purpose is to provide information about the topic and raise awareness. For more information, please contact your doctor or pharmacist.