News Release | Oct 27, 2020
SEPAWA 2020: BASF showcases sustainable solutions on virtual platform
BASF expands Lavergy® enzyme portfolio
BASF's Care Creations® focuses on naturally derived ingredients, microbiome and sun protection
This year, the SEPAWA congress, one of the largest congresses for the detergents and cleansers as well as cosmetics and perfumery industry in Europe, is breaking new ground: This year's exhibition is to be hosted digitally. On the virtual SEPAWA platform, BASF and its European distribution organization BTC Europe will present sustainable solutions for applications in the home care, industrial & institutional cleaning and personal care markets from October 28 to 30.
Laundry with performance differentiation: innovative cellulase enhances Lavergy® enzyme portfolio
Enzymes are essential ingredients of modern detergent formulations. With Lavergy® C Bright 100 L, customers will benefit in future from the outstanding properties of the new cellulase in BASF's enzyme technology portfolio. In combination with other quality ingredients from BASF's home care portfolio, Lavergy® C Bright 100 L prevents graying of fabrics made from a wide variety of materials. In addition, BASF has improved its Lavergy® Pro grades. With the improved performance features from Lavergy® Pro 106 LS and Lavergy® Pro 114 LS, liquid formulations will convince customers by producing brilliant laundry results even at low washing temperatures.
Detergent solutions for sensitive skin
Clean laundry is the first thing consumers expect from a detergent. With more and more people suffering from allergies, demand is increasing for skin-friendly detergents that still deliver perfect laundry results. BASF is now offering detergent ingredients that are tough on stains and gentle to skin. The detergent solution is based on a combination of tried and tested ingredients teamed with biobased, eco-friendly products such as Trilon® M Max EcoBalanced, Glucopon® 600 CS UP, Texapon® N 70 MB and Plantatex® LLE. The result is dazzlingly clean laundry – without having to compromise on detergent performance.
BASF solutions for even greater sustainability in automatic dishwashing detergents
Modern dishwasher tabs are expected not just to remove soils and stains on dishes, they also have to go easy on the environment and consume minimal resources. BASF offers the new Trilon® M Max EcoBalanced, produced according to the biomass balance approach – in which renewable resources such as bio-naphtha and biogas are used in place of fossil fuels right at the start of the production process. This approach, used for the production of Trilon® M Max EcoBalanced, allows to replace 100 percent of fossil resources by renewables. BASF's new Trilon M generation protects the environment and climate without compromising on the high performance of the products.
BASF's Care Creations® focuses on naturally derived ingredients
On the SEPAWA platform, BASF's Care Creations® presents a range of naturally derived ingredients for personal care applications. In addition, it focuses on the topics microbiome and sun protection.
Plantacare® – proven mildness for personal care
BASF looks back on 25 years of producing alkyl polyglycosides (APG®s) in Europe. As part of its Care Creations portfolio, BASF offers its 100 percent plant-based APG line under the tradename Plantacare®. The all-round sugar surfactants known for their excellent ecological and toxicological profile, proven mildness and functional properties, are suitable for a broad field of personal care cleansing applications, ranging from shower gels and liquid soaps to shampoos, facial wash, baby cleansing products, toothpastes and wet wipes.
BASF has been the first supplier in Europe to offer its complete APG range, as well as related products and compositions from certified, sustainable palm-based raw material with Roundtable on Sustainable Palm Oil (RSPO) Mass Balance supply chain certification.
Plantacare from BASF is suitable for use in end products formulated according to the European Ecolabels EU Ecolabel, Nordic Ecolabel and Bra Miljöval and it is approved by the natural and organic cosmetic standards COSMOS and NATRUE. Plantacare is 100 percent of natural origin and therefore perfectly fits the requirements of ISO Norm 16128.
Lamesoft® Balance – efficient stabilization of rinse-off formulations
With Lamesoft® Balance, BASF recently launched a product for the stabilization of ingredients in skin and hair cleansing formulations that is derived from 100 percent natural feedstock. Acting as a natural structure enhancer in surfactant-based systems, it allows to stabilize wax-based opacifiers in rinse-off applications – even in low viscosity formulations. It provides a pleasant and homogenous rheology in finished formulations. Lamesoft Balance is readily biodegradable and suitable for formulations of natural cosmetics according to both the COSMOS and the NATRUE standard.
Scalposine™ – for a healthy scalp and microbial diversity
Growing urbanization exposes skin and hair to increasingly harmful environmental influences; a hectic lifestyle causes stress. These factors can trigger an overproduction of sebum and lead to oily scalp and hair. In a baseline study, BASF compared the composition of the microbiota of healthy and oily scalp to find out which microorganisms contribute to scalp health. The new BASF active ingredient Scalposine™ promotes the recolonization of the scalp with these microorganisms and thus restores a healthy balance of the microbiota. Besides the prebiotic effect, the active ingredient, which is based on the amino acid derivative sarcosine, inhibits the enzyme 5-α-reductase, playing a crucial role in sebum secretion. The one-month application of 1 percent Scalposine in a hair mask led to a significant increase in beneficial bacteria and measurably and perceptibly reduced the greasiness of the scalp.
EcoSun Pass – evaluating the environmental impact of UV filters
EcoSun Pass by BASF's Care Creations is a methodology especially developed for sun protection products to evaluate the environmental compatibility of UV filter systems in sunscreens, considering the respective filter efficiency. The methodology supports the transparent assessment of UV filters based on internationally recognized criteria and comprises eight different parameters, from biodegradation and aquatic toxicity to endocrine disruption potential. It not only considers environmental factors for individual UV filters, but provides a comprehensive environmental evaluation of filter systems.
Exchanging expertise
Experts from BASF have prepared online lectures for the 'Forum for Innovations', the 'Forum Cosmeticum' as well as the 'European Detergents Conference' and the 'Scientific Conference':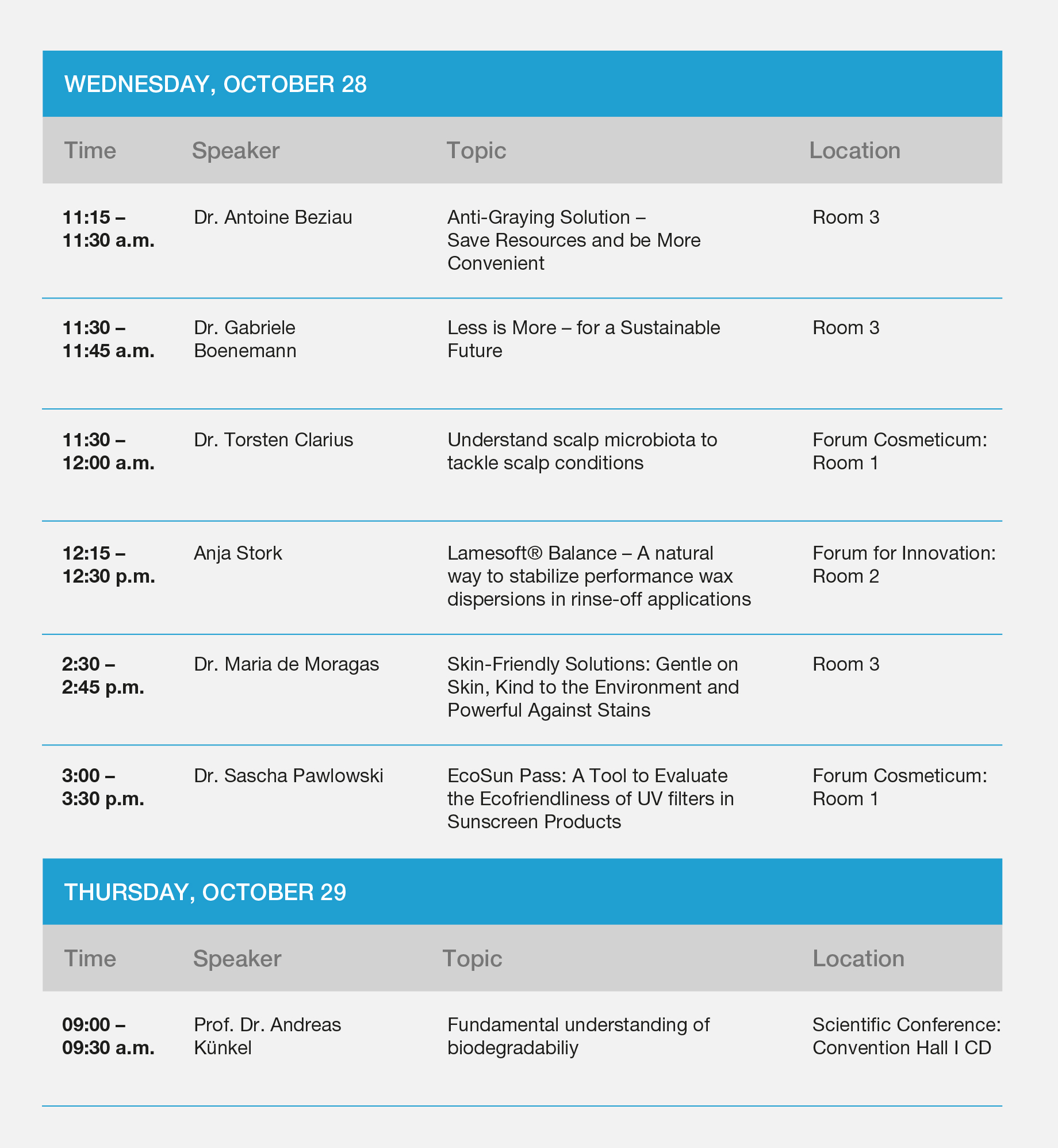 About the Care Chemicals division at BASF
The BASF division Care Chemicals offers a broad range of ingredients for personal care, home care, industrial & institutional cleaning, and technical applications. We are a leading global supplier for the cosmetics industry as well as the detergents and cleaners industry, and support our customers with innovative and sustainable products, solutions and concepts. The division's high-performance product portfolio includes surfactants, emulsifiers, polymers, emollients, chelating agents, cosmetic active ingredients and UV filters. We have production and development sites in all regions and are expanding our presence in emerging markets. Further information is available online at www.care-chemicals.basf.com
About BASF
At BASF, we create chemistry for a sustainable future. We combine economic success with environmental protection and social responsibility. More than 117,000 employees in the BASF Group work on contributing to the success of our customers in nearly all sectors and almost every country in the world. Our portfolio is organized into six segments: Chemicals, Materials, Industrial Solutions, Surface Technologies, Nutrition & Care and Agricultural Solutions. BASF generated sales of €59 billion in 2019. BASF shares are traded on the stock exchange in Frankfurt (BAS) and as American Depositary Receipts (BASFY) in the U.S. Further information at www.basf.com.
About BTC
BTC Europe belongs to the world's leading chemical group, BASF – We create chemistry. BTC Europe GmbH is BASF's European sales organization for specialty chemicals. Our strengths lie in our knowledge of the industry, based on many years of experience, and our proximity to our customers. With its 11 regional offices and more than 500 employees in Europe, BTC supplies small and medium-sized customers from a wide variety of industries with about 6,000 products. BTC is headquartered in Monheim am Rhein. Further information on BTC is available on the Internet at www.btc-europe.com..