Press Center | Oct 12, 2016
SEPAWA 2016: BASF launches new enzyme product line Lavergy™ for detergents and cleaners and new generation of micro-proteins for hair care applications
New protease Lavergy™ Pro 104 L™ together with polymer Sokalan® HP 20 provide enhanced performance
Trilon® M, the readily biodegradable alternative to phosphate, secures performance for automatic dishwashing products
New low-molecular proteins Nutrilan® Keratin LM and Gluadin® Kera-P LM repair, strengthen and protect the hair
Ludwigshafen, Germany – October 12, 2016 – At the 63rd SEPAWA Congress in Fulda/Germany, from October 12 to 14, BASF will present its latest solutions for applications in the home care and industrial & institutional cleaning (I&I) and personal care markets. Together with its European distribution organization BTC Europe, BASF will be represented at booths 200-202 and 250-254. BASF's focus is on its new enzyme product line Lavergy™ presented in the concept 'Next level of low temperature washing' and on two new low-molecular proteins Nutrilan® Keratin LM and Gluadin® Kera-P LM for hair care applications.
Solutions for resource-saving detergents and cleaning agents for outstanding performance
In the area of home care, there is growing demand for efficient, safe and resource-friendly detergents and cleaning agents. BASF offers a wealth of possibilities for the formulation of detergents and cleaning agents that contribute to sustainable development.
At this year's SEPAWA BASF will launch the enzyme product line Lavergy. For the first time the protease Lavergy™ Pro 104 L will be presented to the market. BASF's new protease Lavergy Pro 104 L is a high-performance alternative to established market standards in liquid laundry detergents, especially at low washing temperatures between 20° and 30° C. Lavergy Pro 104 L has been proven in independent tests by the Hohenstein Institute to enable superior removal of specific stains such as egg, blood, and milk types. Lavergy Pro 104 L will be available in liquid form. It is suitable for the formulation of liquid laundry detergents and gels.
The combination of Lavergy Pro 104 L with other BASF detergent raw materials will give extra benefits in terms of enhanced cleaning performance, e.g. lifting the liquid laundry category through the combination with Sokalan® HP 20 polymer.
High-performance products, which contribute to more sustainable dishwashing
No compromise on automatic dishwashing performance for the consumer is a must. At the same time, the drying performance, scale inhibition, and material protection of glasses and plastic dishes are gaining importance. The challenge increases as phosphate will be banned for use in Europe as of January 2017. The cleaning performance even of tough soils, as well as the prevention of spotting and filming together with environmental friendliness is a market request. BASF's Trilon® M types have proven to be the best technical alternative for automatic dishwashing products – especially due to the ability to resolve scale in addition to the inhibition – to meet high consumer expectations.
Nutrilan Keratin LM and Gluadin Kera-P LM for hair care applications
Every day, our hair is exposed to numerous stress factors that can damage it. This includes common hair dyes as well as environmental influences like UV light and daily routines such as combing and styling. Two new micro-proteins developed by BASF can protect the hair from these strains – both on the inside and outside.
New micro-proteins repair hair on the inside
While many protein hydrolysates produce their effects on the hair surface or in the cuticle, the low-molecular proteins Nutrilan® Keratin LM and Gluadin® Kera-P LM penetrate through the cuticle deep into the cortex. This is where they 'reload' the hair – which consists of up to 95 percent keratin – with missing protein building blocks and contribute to stress-relief.
Double protective effect on the hair surface
On the hair surface, both micro-proteins provide protection for the cuticle. Where normally free radicals cause protein degradation ultimately leading to weak hair, Nutrilan Keratin LM and Gluadin Kera-P LM reduce hair damage thanks to their double protective effect: Firstly, both proteins diminish the copper bond with hair and reduce damage caused by oxidative stress; secondly, they are able to intercept free radicals and thus prevent premature hair aging. What is more, both micro-proteins are gluten-free and halal-certified. Moreover, Gluadin Kera-P LM is based on plant derived protein building blocks. This makes it BASF's first low-molecular phyto-keratin for the personal care market. With an amino acid spectrum very similar to that of keratins of animal origin, it offers an alternative to conventional keratins.
Exchanging expertise
Experts from BASF will be taking part in the 'Forum for Innovations' and the 'European Detergents Conference'. Here is an overview of the presentations: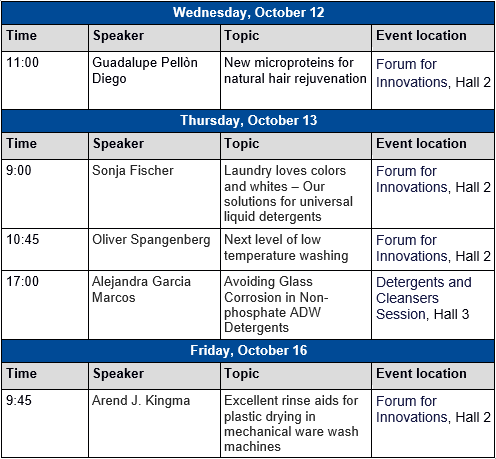 About the Care Chemicals division at BASF
The BASF division Care Chemicals offers a broad range of ingredients for personal care, hygiene, home care, industrial & institutional cleaning, and technical applications. We are the global leading supplier for the cosmetics industry as well as the detergents and cleaners industry and support our customers with innovative and sustainable products, solutions and concepts. The division's high-performance product portfolio includes surfactants, emulsifiers, polymers, emollients, chelating agents, cosmetic active ingredients and UV filters. Superabsorbent polymers developed for the full spectrum of hygiene applications complete the range. We have production and development sites in all regions and are expanding our presence in emerging markets. Further information is available on the Internet at www.care-chemicals.basf.com.
About BTC
BTC Europe belongs to the world's leading chemical group, BASF – We create chemistry. BTC Europe GmbH is BASF's European sales organization for specialty chemicals. Our strengths lie in our knowledge of the industry, based on many years of experience, and our proximity to our customers. With its 11 regional offices and more than 450 employees in Europe, BTC supplies small and medium-sized customers from a wide variety of industries with about 6,000 products. BTC is headquartered in Monheim am Rhein. Further information on BTC is available on the Internet at www.btc-europe.com.
About BASF
At BASF, we create chemistry for a sustainable future. We combine economic success with environmental protection and social responsibility. The approximately 112,000 employees in the BASF Group work to support the success of our customers in nearly every industry and in almost every country in the world. Our portfolio includes the segments of Chemicals, Performance Products, Functional Materials & Solutions, Agricultural Solutions and Oil & Gas. In 2015, BASF achieved a worldwide sales volume of more than €70 billion. BASF is listed on the stock exchanges in Frankfurt (BAS), London (BFA) and Zurich (AN). More information can be found at www.basf.com.