News Release | Oct 14, 2015
SEPAWA 2015: BASF Presents New Solutions for Resource-efficient Detergents and Cleaners as well as Personal Care Products
BASF Presents New Solutions for Resource-efficient Detergents and Cleaners as well as Personal Care Products
New types of the innovative chelating agent Trilon® M
Sokalan® special polymers for modern color detergents
Surfactant-based compound Plantapon® WW 1000 especially for water-free shower oils and oil baths
Ludwigshafen, Germany – October 14, 2015
At the 62nd SEPAWA Congress in Fulda/Germany, BASF will present its latest solutions for applications in the Home Care and Industrial & Institutional Cleaning (I&I) and Personal Care markets from October 14 to 16. The chemical company will share booths 200-202 and 250-254 with its European sales company BTC. In the year of BASF's 150th anniversary, the focus is on new products and concepts that contribute to more sustainable detergents and cleaners as well as personal care products, in line with the corporate mission "We create chemistry for a sustainable future."
Solutions for Resource-efficient Detergents and Cleaners without Compromising on Performance
In Home Care, there is an increasing demand for detergents and cleaners that clean quickly and efficiently, provide care, are safe and easy to use, and that save resources. BASF offers various choices for the formulation of detergents and cleaners that enable this contribution to sustainable development.
BASF presents one of these solutions with Trilon® M, and the new types Trilon® M Max and Trilon® Ultimate. The chelating agents offer a particularly high-performance phosphate alternative for automatic dishwashing detergents. EU regulations stipulate that phosphate will be virtually prohibited for this application in Europe from 2017. The chelating agents actively bind water hardness ions, which cause limescale buildup on the dishes. Trilon® M Max offers further advantages in terms formulation flexibility and esthetic choice of the automatic dishwashing detergent. The 2-in-1 solution Trilon®Ultimate provides extra benefits such as improved stability of the dishwashing tablet or extra glass protection.
To keep clothes looking colorful for longer, BASF offers the special polymers Sokalan®HP 56 K and Sokalan® HP 66 K for color detergents. They prevent bleeding dyes from staining other garments in the washing process. It is thus possible to wash dark and bright colors together without them losing their original colors. As a result, the clothes look new for longer and the colors remain brilliant. On the basis of intensive applied research, visitors to SEPAWA will also experience how to optimally combine the special polymers with surfactant compositions in order to obtain high-performance, transparent, and stable formulations for color detergents.
Alongside efficient cleaning performance and practical and safe use of the cleaners, sustainability aspects are also growing in importance for industrial and institutional cleaning. There is a particular focus on the fulfillment of criteria for obtaining the EU Ecolabel. At SEPAWA, BASF will present numerous formulations for all-purpose cleaners and manual dishwashing detergents that fulfill these requirements without compromising on cleaning performance.
Plantapon® WW 1000: surfactant-based compound for clear, water-free shower oils and oil baths
Clear, water-free shower oils and oil baths based on high concentrations of natural oils and oil combinations are in line with the current trend. This poses real challenges for the solubilizing capacity of surfactant systems. At SEPAWA, BASF will present a new surfactant-based compound developed especially for the use in water-free shower oils and oil baths: Plantapon® WW 1000. The surfactant blend ensures outstanding solubilization of natural oils and good foaming performance, even with high oil concentrations. Furthermore, Plantapon® WW 1000 is suitable for cold processing. Clearly soluble in water-free oil formulations, it is an optimal solution for robust, water-free shower and bath products.
Exchanging Expertise
Experts from BASF will also be taking part in the "Forum for Innovations" and the "European Detergents Conference." In their presentations, they will address the optimized foaming and cleaning behavior in manual dishwashing detergents and new methods for sensory evaluation of foam. Here is an overview of the presentations: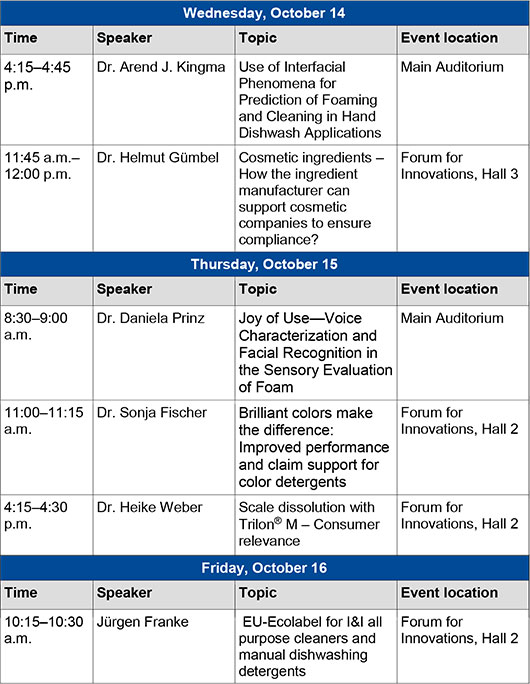 About BASF's Care Chemicals division
The BASF division Care Chemicals offers a broad range of ingredients for hygiene, personal care, home care, industrial & institutional cleaning, and technical applications. We are the leading supplier for the cosmetics industry as well as the detergents and cleaning agents industry and support our customers worldwide with innovative and sustainable products, solutions, and concepts. The division's high-performance product portfolio includes surfactants, emulsifiers, polymers, emollients, chelating agents, cosmetic active ingredients, pigments, and UV filters. Superabsorbents developed for the full spectrum of hygiene applications complete the range. We have production and development sites in all regions and are expanding our presence in emerging markets. Further information is available at www.care-chemicals.basf.com.
About BASF
At BASF, we create chemistry – and have been doing so for 150 years. Our portfolio ranges from chemicals, plastics, performance products and crop protection products to oil and gas. As the world's leading chemical company, we combine economic success with environmental protection and social responsibility. Through science and innovation, we enable our customers in nearly every industry to meet the current and future needs of society. Our products and solutions contribute to conserving resources, ensuring nutrition and improving quality of life. We have summed up this contribution in our corporate purpose: We create chemistry for a sustainable future. BASF had sales of over €74 billion in 2014 and around 113,000 employees as of the end of the year. BASF shares are traded on the stock exchanges in Frankfurt (BAS), London (BFA) and Zurich (AN). Further information on BASF is available on the Internet at www.basf.com.
About BTC
BTC Europe GmbH is BASF's European sales company for specialty chemicals. We combine a profound knowledge of the industry with a close proximity to our customers. With its 10 regional offices in Europe, BTC supplies small and medium-sized customers from a wide variety of industries with about 6,000 products. BTC is headquartered in Monheim am Rhein, Germany. Further information on BTC is available on the Internet at: www.btc-europe.com.