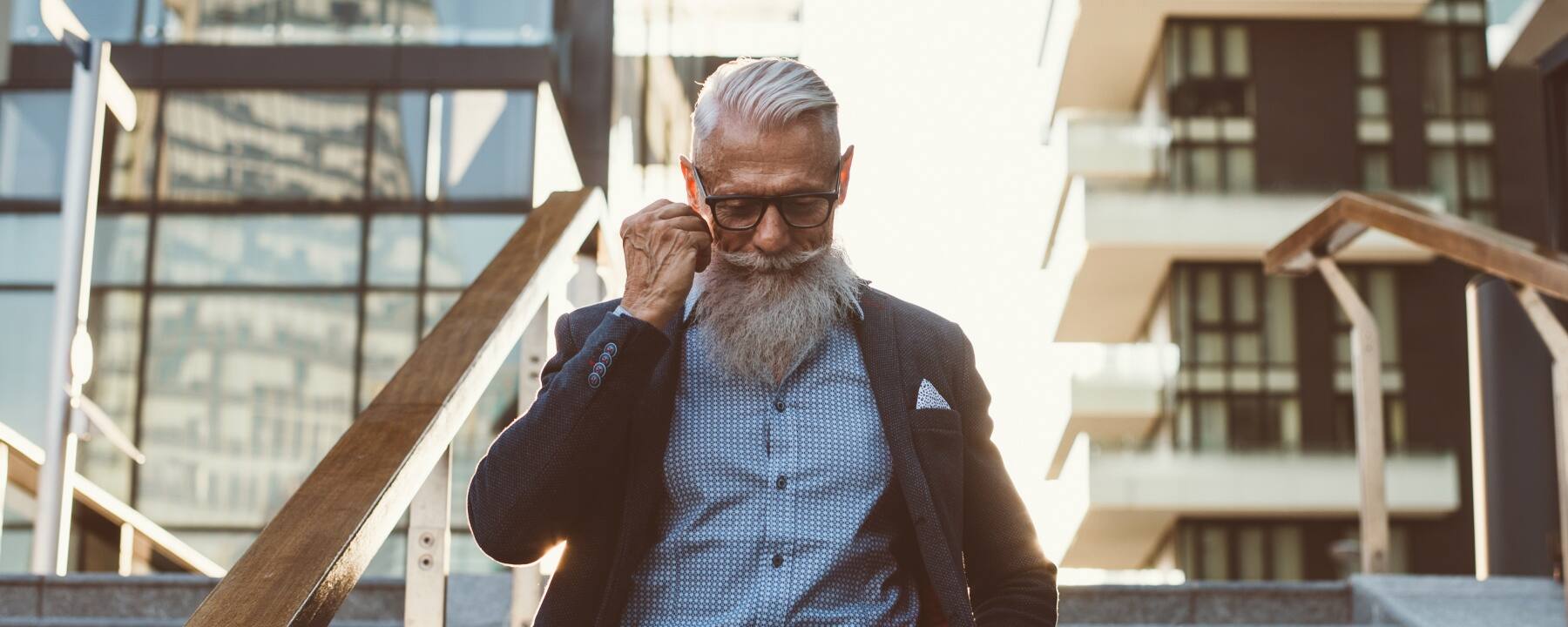 Hair Care & Co.
Barbers – When men enjoy hair care
A visit to the barber has become a much-loved ritual for many men. Although barber shops are still considered a recent trend, they have a long, a very long tradition.
For women, regularly visiting beauty and nail salons is long established. For a long time, pampering days or weekends with various cosmetic treatments were considered to be a "women's thing", and a way for women to spend some quality time with friends. But men also have a place where men can retreat and let themselves be pampered, where they are groomed and spoiled. Men have been (re)discovering barbers' shops for several years now. The focus is on trimming, shaving, and beard care.
As the old saying goes, "Barba decet virum", which translates as "The beard maketh the man". This proverb is valid and meaningful in several respects. While facial hair starting to sprout on the faces of teenage boys is a visible indication of their transition to adulthood; for men, beards express their attitude, how they see themselves, or just their taste.
A brief look at the history of the beard shows that there were definitely different reasons to either have a beard or not throughout the ages. Religion, ancestry, status, and fashion have all played, and continue to play, an important role. Today, you don't see every man with a beard, and they are a matter of personal choice. You may have a beard if you want, but it's not compulsory.
A matter of taste
The same applies to hairstyles and clothing: beards are a matter of taste. Some men are staunch supporters of beards, and others are staunch supporters of a clean, smooth shave. Each to their own. However, grooming is required for both, whether it's a thorough shave in order to have a smooth, hairless face, or special beard care for a beautiful, individual and well-groomed beard.
The beard wearers out there know that if you just let it grow, so it's obviously more than the famous three-day stubble, it quickly looks scruffy and unhygienic, and can also be seriously itchy and have dandruff. You need to keep grooming it if you want to feel really comfortable.
The list is long of the available implements and products for good shaving and intensive beard care: shaving foam, gel, and soap, beard oil, aftershave, shaving brush, safety razor, cut-throat razor, strop, electric shaver, and much more. If you do it properly, it can take a chunk of time out of your day.
Skin demands attention
The average man probably doesn't have all of the tools at home. He usually has an electric razor, or a wet razor with appropriate shaving foam, and an aftershave balm to help the skin afterwards. In your daily routine, you usually need to do things quickly. Especially those men who start out by seeing shaving as a chore anyway.
Something men should not underestimate: your skin does require attention, particularly after shaving. In many cases this is obvious with the "razor burn" effect. This is what we call it when the skin has sensations like itching, burning, redness, dryness and tautness, making it feel worse than just uncomfortable. To put it in a rather over-the-top way: After the sharp blade of the razor has not only cut the hairs but also pulled at them, and inevitably removed some skin particles, the skin is crying out for help – it is traumatized.
Men also need to take care of their skin
Skin care and facial care are well worth the effort. There's no doubt about it. No matter whether you are male or female. Because, despite all the differences between men's skin and women's skin, the reasons why skincare is worthwhile remain the same.
More information
Sensitive skin in particular needs to be soothed again after shaving. Aftershave products, maybe in the form of a balm, rehydrate the skin and calm the razor burn. Instead of dry shaving, where blunt blades often go unnoticed, wet shaving can be a good alternative. If the blade is oiled properly to glide over the skin, the skin becomes less stressed, and the shave is often more thorough than with dry shaving.
Quality time for men
Then to turn shaving, which for many men is a tiresome chore, into a pleasant ritual, there are barber shops. Although claiming that men spend most of their quality time in a surgery, that would of course be nonsense. On the other hand, being a barber is a trade, and surgery comes from the Ancient Greek for a manual trade or craft. In the early days, medical tasks also fell within the scope of this profession. Nowadays, of course, claiming a barber is a type of surgeon is nonsense and meant tongue in cheek.
What makes a visit to a barber's shop quality time for men?
Looking at the various press stories and advertisements, it seems to be a place where men can simply be men. Sounds a bit macho for nowadays. Visiting the barber is indeed reserved for men. Everyone knows about talking to your hairdresser, and barbers' shops also often appear to be a kind of talking shop and meeting point for their customers.
Given that their operators are often Turkish, Arabic or have another migrant background, today's barber shops can be seen as a cross-cultural meeting place in a generally very pleasant environment in which men relax and let themselves be pampered. Of course, it is not quite the same as an English gentlemen's club; after all, the focus is on beards, skin, and hair care.
And barbers are absolute professionals. In addition to the right shave and/or beard trim, bracketed by intensive preparations and aftershave treatments, men can also get good advice about the right type of beard that would suit them.
Whether you leave looking completely different or with just some fine-tuning of your "old" look, either way you'll feel good. That's exactly what makes quality time so valuable. Your body and soul will thank you, and those around you will appreciate it.
Oil meets Beard Care
Our BASF Men's Grooming Oil is designed to soften the beard, offering a natural look in just one simple step.
More information